Fall in love at first sight with the crisp, rhythmic texture of the exterior cabinetry highlighted by corner illumination. This eye-catching combination of classic beauty and architectural form is further enhanced by a low-profile flat top rail and beautiful lounge deck with illuminated SunCooler™ cold storage areas for additional seating and convenience. Throughout the Claremont® spa you can melt away stress and strain in seats that feature popular combinations of our Patented Fluidix® Jets. Reminiscent of a reclining chair, the lounge seat is molded to support your body in comfort allowing you to lay back and relax without the worry of floating around. As you surrender fatigued muscles in your neck, back, hips wrists, legs and feet, an amazing full-body massage delivers total relaxation. Throughout the rest of the Claremont® spa, wide seats inspired by some of our most popular models are highlighted by the even glow of LED lighting for both beauty and safety. Silent Air™ injector jets and SunScents® Aromatherapy further enhance the incredible experience. Enjoy your spa day or night with a Glass i-Touch Control, equipped with SunSmart® 2.0 Wi-Fi Kit, for remote access and to keep you informed of your spa's status. Also, tool-free cabinetry and an advanced MicroClean® Ultra Water Management System make maintenance a breeze.
92" x 100" x 34" / 234 cm x 254 cm x 86 cm
Customize the Claremont® Spa
Watch the Claremont® Hot Tub Videos
Silent Air injector jets diffuse SunScents™ fragrances for aromatherapy. Soft, soothing bubbles of Silent Air injector jets deliver SunScents™ aromatherapy fragrance without affecting the water.
Deep tissue jets deliver the widest coverage we've ever offered for relief in your back and hips. Jets also relax your neck, wrists and calves for a customer-favorite seat.
Molded to support your body in comfort, you can lay back and relax as you surrender fatigued muscles in your neck, back, hips wrists, legs and feet for a full-body massage.
The Claremont® Specifications
Dimensions: 92" x 100" x 34" / 234 cm x 254 cm x 86 cm
Filled Weight: 5348 / 2426
Filtration: CLEARRAY® UV-C Technology + Filtration
Filters: MicroClean® Ultra Filtration System, 130 ft² (2 interlocking cartridge filters)
North America Electrical: 240 VAC 60 Hz @ 40A, 50A or 60A
International Electrical: 230-240 VAC 50 Hz @ 20A/16A/20A/3 x 16A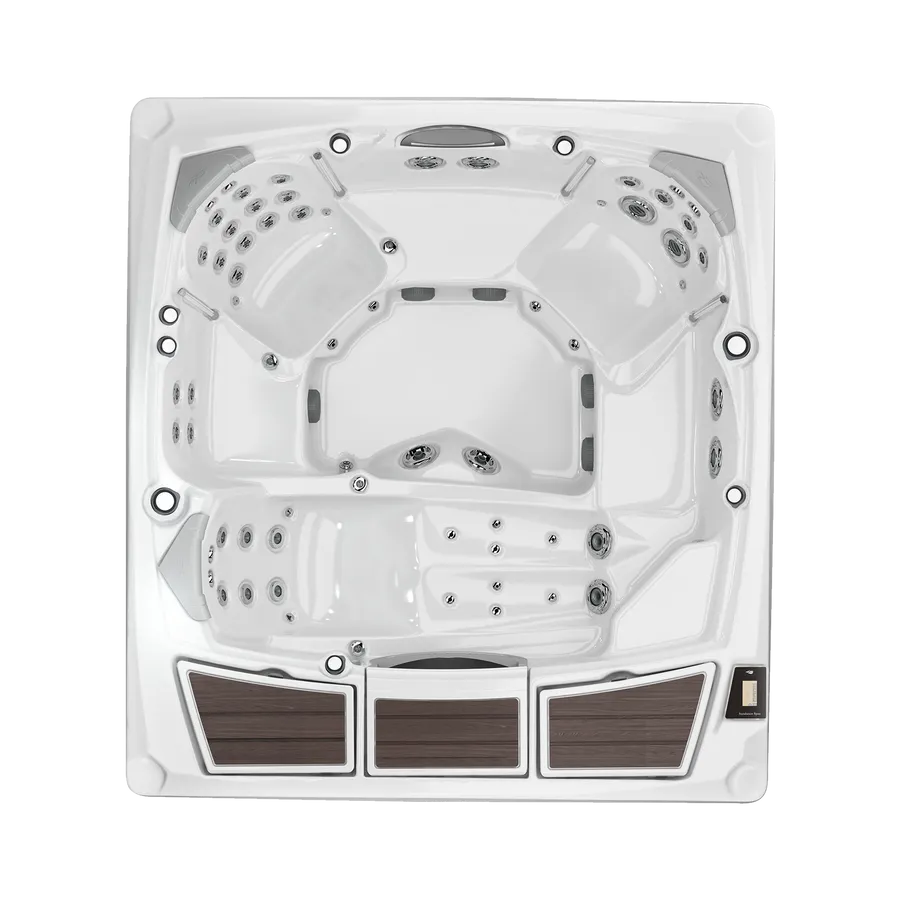 Want to learn more about this hot tub?
These spas are packed with all of the features that spa owners love and intertwined them with new elements you'll soon fall in love with, too.
Hydrotherapy Health Benefits
Setting Industry Standards
Want to learn more about this Sundance® Spa?
GET THE BEST PRICING TODAY
Please provide your information in the form below to get the quote for your desired spa.
By submitting the form, I consent to receive electronic communications from Le Dipping Parlor Spas.